Software / System Tools →
Actual Installer Pro+ 8.4.0 Multilingual
Published by: LeeAndro on 22-09-2021, 11:10 |
0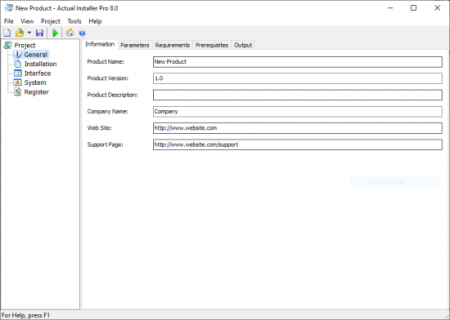 File size: 26 MB
If you are looking for a powerful and easy-to-use software installer tool for your Windows based programs, then Actual Installer is all that you need!
This professional tool allows you to create reliable installation programs, ready for distribution, with extreme ease. Now you can forget about -consuming scripting and manual learning. All you need to do is to fill out the necessary forms and attach the program's files.
Along with the basic features of software installation tools, Actual Installer provides a lot of advanced, such as support for both 32-bit and 64-bit Windows applications, multilingual installations, customizable dialogs, registry modification, checking the system specifications for their compliance with the program requirements, software prerequisites, file associations, registration of fonts, screensavers and ActiveX components, executing custom commands and much more! All of these features take just a few minutes to configure and compile into a compact executable file.
Actual Installer supports all basic installation features, such as copying files into any directories, creating shortcuts on Desktop and Start Menu, showing License Agreement and ReadMe files, modification of Registry and INI files, has complete uninstallation feature with support of Add/Remove Programs (Control Panel - Programs and Features) applet. Advanced features include registration of File Associations, Environment Variables, Fonts, COM (DLL In-Proc servers, Type Libraries), .Net Assemblies, and even ScreenSavers. What's more, Actual Installer supports many installer variables, customizable interface of setup programs, user information queries (e.g. user name, serial number), Uninstall feedback, creating patches/add-ons, and more.
Actual Installer can be used for installing both 32-bit and 64-bit applications on Windows. While installing a 64-bit application, the setup program uses the appropriate paths, such as C:\Program Files and C:\Windows\System32. More information about creating 64-bit installations is described here.
Actual Installer allows checking system information and infog the user if some requirements specified in the installation project are not met. You can specify such checks as Windows OS versions, administrator privileges, Internet connection, and Close Running Application.
If your application requires some 3rd party software for correct working, you can specify them in Actual Installer as software prerequisites. You can specify: Microsoft .NET Framework, Internet Explorer, Adobe Reader, Java (JRE), SQL Server, Crystal Reports, or any other custom prerequisites. These software prerequisites can be included in the installer package or ed from specific links.
Actual Installer compiles an installation package as a single executable file / standalone installer (e.g. Setup.exe). Then, this file can be easily uploaded to your website and made available to visitors for ing. Or, it can be distributed on CD/DVD and other media.
If your application is large, then Actual Installer can generate the small setup file and the large data file separately (Setup.exe + Data.zip). Actual Installer also supports creating Web Installer - a small setup file which s the remaining app's data during installation.
Actual Installer enables you to create a Windows installer package in any supported languages (12 available - Chinese, Czech, Dutch, English, French, German, Italian, Russian, Slovenian, Spanish, Swedish, Vietnamese). The Readme and License Agreement texts can also be specified for each language separately.
Actual Installer lets you to create good-looking installations. It has templates for Classic Wizard and Modern installation. You will be able to customize the setup icon, installation graphics, edit any text and error messages. The silent installation mode is also supported. In this mode no user interface will be shown. It's useful for unattended installation / uninstallation over large number of computers.
For creating flexible installations, in Actual Installer project you can specify any custom commands to be executed on user's system. Conditions for commands are also supported, as well as showing custom messages. Commands can be executed before / after installation (and uninstallation). What's more, Actual Installer has a feature to read data from Windows Registry into variables.
Actual Installer includes a very useful tool - Actual Updater. It allows the user to check for updates of your application and new version, if available. Setting up is very simple and easy.
Installer packages created with Actual Installer work fine on Windows XP, Vista, 7, 8, 8.1 and 10 versions.
Actual Installer received a lot of awards and positive reviews from editors. For more than 10 years (initially released in 2004), Actual Installer has been used by software developers from all over the world. Our satisfied customers shared many testimonials:
DOWNLOADuploadgig.comrapidgator.netnitro.download
[related-news]
Related News
[/related-news]
Comments (0)
Information
Users of Guests are not allowed to comment this publication.