Software / System Tools →
NetSDK Software S3 Browser Pro 9.9.7
Published by: LeeAndro on 22-09-2021, 10:38 |
0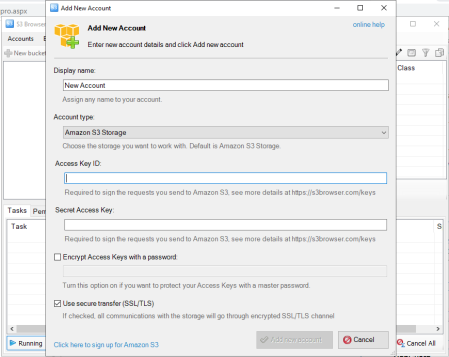 File Size: 10.6 MB
S3 Browser is a Windows client for S3 and CloudFront.
S3 provides a simple web services interface that can be used to store and retrieve any amount of data, at any , from anywhere on the web. CloudFront is a content delivery network (CDN). It can be used to deliver your files using a global network of edge locations.
Reliably Upload and your files to and from S3.
Publish your Content using S3.
Browse, Create, Delete S3 Buckets.
Share your Buckets with other S3 users.
Use Buckets shared by other S3 users.
Set Access Control on Buckets and Files.
Keep your Files backed up in encrypted form.
Manage your CloudFront Distributions.
And Many More!
Support for Multiple S3 Accounts and S3-Compatible Storages
Client Side Compression and Encryption (AES 256)
Support for Data Integrity Checking to guarantee reliable file transfer.
Convenient Folder Sync Tool - Upload Only New and Changed Files!
Support for S3 Versioning and convenient versions manager.
Full support for all S3 storage classes
Full support for Standard Infrequent Access Storage Class
Full support for OneZone-Infrequent Access Storage Class
Processing very large amounts of files (millions) effectively!
Support for AWS Identity and Access Management (IAM)
Easy to use CloudFront Manager
Support for very large files. Up to the 5 TB in size!
S3 Server Side Encryption support.
High-speed Multipart Uploads and s with ability to Pause and Resume.
Full support for S3 Transfer Acceleration
An easy to use Bucket Sharing Wizard - share your Buckets with just two clicks!
Convenient HTTP Headers Editor.
Inclusion and Exclusion Filters
Support for Bucket Lifecycle Rules
Support for restore from Glacier and Deep Archive storage classes.
Support for bulk ACLs assignment (edit ACLs in batch mode).
Default Http Headers to apply pre-defined HTTP Headers automaticaly!
Advanced Web URLs Generator.
Support for Static Website Hosting.
Support for S3 Bucket Policies.
Support for Cost Allocation Tagging and Cross-Origin Resource Sharing.
Command Line Tools - Automate your S3 Tasks with ease!
Bandwidth throttling and proxy support.
Support for copy/move between s3 accounts and buckets.
Drag and Drop from Windows Explorer.
Fast working multithreaded Http Ee.
Support for S3 Bucket Logging (Server Access Logging).
Support for Requester Pays Buckets.
And tons of other cool features and tools!
Added full support for Server-Side Encryption (SSE-S3, SSE-KMS, SSE-C)
Server-Side Encryption Rules for automatic SSE assignment
Added support for S3 Default Encryption
Added support for the S3 via GetSessionToken account type
Added support for Default Storage Classes
Compatibility improvements for S3-Compatible storages
Improvements and bug-fixes for Web URL Generator
Improvements and bug-fixes for IAM Manager
Improvements and bug-fixes for Folder Sync Tool
Improvements and bug-fixes for the Versioning tab
Improved and bug-fixes for CloudFront Manager
Various UI improvements and bug-fixes
Various internal improvements and bug-fixes
Stability and performance improvements
DOWNLOADuploadgig.comrapidgator.netnitro.download
[related-news]
Related News
[/related-news]
Comments (0)
Information
Users of Guests are not allowed to comment this publication.