Published by: LeeAndro on 22-09-2021, 17:37 |
0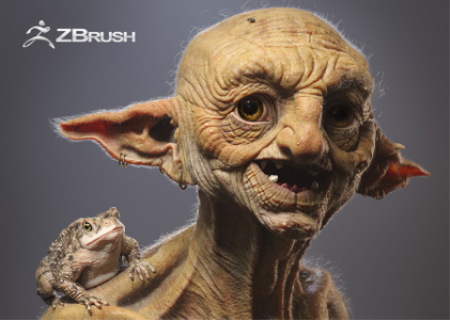 Pixologic ZBrush 2021.7.1 Upgrade macOs | 675.5 mb
Languages Supported: English, Japanese, Korean, Chinese, Spanish, German, French.
Pixologic is pleased to announce ZBrush 2021.
7.1. This update includes a small of bug fixes and technical improvements.
For hard surface work, ZBrush 2021.7 introduces two new Knife brushes for cutting geometry along a path. KnifeCurve cuts along the line of a Curve stroke; KnifeLasso along the line of a Lasso selection. Unlike the existing Trim Curve brushes, they can be used with symmetry; and the new topology created by the cut consists largely of quads, barring the odd triangle where the new surface meets the old one. The update also adds two new Bevel brushes, BevelArc and BevelFlat, for bevelling the edges of a model via a brush-based workflow, rather than by entering parameter values for the Bevel deformer.
Another new feature in ZBrush 2021.7 is Stager, which makes it possible to store the position, rotation and scale of any Sub-Tool in two states: the Home stage and the Target stage. Users can then toggle back and forth between the two stages at will. In the example above, the Home stage stores the dog collar in a position ready to be sculpted, while the Target stage stores it posed around the dog's neck, making it possible to continue sculpting it with symmetry while checking the result in context.
New sculpting features include Stroke Interpolate, which creates an array of regularly spaced brush strokes between two source strokes. The shape of the generated strokes morphs smoothly between the two source strokes, making it possible to create patterns of detail that conform to the contours of a surface.
Workflow improvements include Adjust Last, which makes it possible to adjust the intensity of the previous sculpting, painting or masking stroke without having to undo and redo it. Adjust Last can also be used on entire series of strokes between points chosen in the Undo History. In addition, new Mask Changed Points and Groups Changed Points convert the previous stroke into a mask or a new Polygroup.
Other changes include the option to switch between palettes using the mouse scroll wheel, and to mirror Polypaint strokes or painted masks on topologically symmmetrical meshes even after they have been posed.
- Modified: File> Save As and Tool> Save As now remember the original location of the file regardless of any other file being imported.
- Modified: BevelArc brush is now chamfer-based and will work with Sculptris Pro.
- Modified: The use of Arrow keys in conjunction with IMM brushes and line.
- Fixed: 3D Layers that can cause a file with Undo History to become unable to load.
- Fixed: Multiple Save and Export functions no longer remembering last location used on Windows.
- Fixed: Knife brushes not working in some case with BRadius enabled with a small brush size.
- Fixed: Flatten, Trim Dynamic, and hPolish brushes causing seam at symmetry intersection.
- Fixed: Dynamesh Create Shell Thickness slider disabled for multiple Lightbox Project files.
- Fixed: ZBrush unable to launch when using "x64" in a custom installation folder name.
- Fixed: GrabDoc functions causing ZBrush to hang or crash.
- Fixed: MultiMapExporter(MME) meg maps and UDIMs.
- Fixed: Saving and loading iMage3d GIF format on macOS.
- Fixed: PLY export
is a digital sculpting and painting program that has revolutionized the 3D industry with its powerful features and intuitive workflows. Built within an elegant interface, ZBrush offers the world's most advanced tools for today's digital artists.
With an arsenal of features that have been developed with usability in mind, ZBrush creates a user experience that feels incredibly natural while simultaneously inspiring the artist within. With the ability to sculpt up to a billion polygons, ZBrush allows you to create limited only by your imagination.
Pixologic has released ZBrush 2021.7, its latest update to the digital sculpting software, adding new sets of Knife and Bevel brushes for hard surface modelling. The release also adds Stager, a new system for storing and toggling between base and posed states for SubTools, and Stroke Interpolate, for creating arrays of brush strokes.
develops, markets, and supports software tools for film and video, games, graphic design, and illustration markets. The company offers ZBrush, a graphic application aimed at simplifying the science behind generating computer graphics by providing tools that give digital artists intuitive and visual control over the digital images they create. Its application synthesizes 2D and 3D capabilities in a single stand-alone tool, which enables users to sculpt and paint with various polygons. The company sells its solution through authorized resellers, as well as online for Windows and Mac platforms. Its solution is used in movies and VFX, games, illustration, advertising, 3D printing.
Pixologic ZBrush
2021.7.1 Upgrade
x64 multilanguage
macOs *
Pixologic ZBrush 2021 and above
675.5 mb
DOWNLOADuploadgig.comrapidgator.netnitro.download
[related-news]
Related News
[/related-news]
Comments (0)
Information
Users of Guests are not allowed to comment this publication.